Books
Unleash your wild side in a roller-coaster of a dark rodeo romance, where a spark can ignite a wildfire, and obsession is the name of the game. Ride alongside our heroine as she gets swept into an intoxicating world of danger, desire, and high-stakes in the unyielding landscape of West Texas. Brace yourself, because when love and lawlessness clash in this primal love story, there's no safety net—only a thrilling plunge into extremes.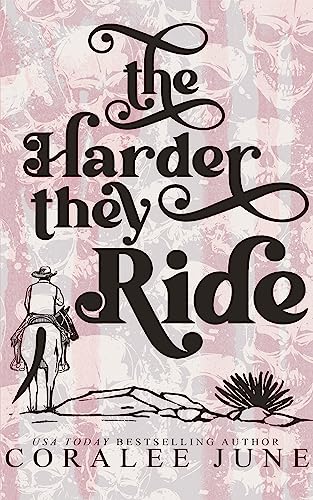 The Harder They Ride
He turned me into a woman of extremes, living a life of intense passion and fierce emotions in the rugged landscape of West Texas.
When I cried, I drowned.
When I loved, I burned.
Declan Wilder, a man with a deadly past and a killer smile, made me feel alive like never before. Little did I know that he was a key player in the criminal underground rodeo circuit, where danger and desire went hand in hand. Little did I know, he had been hired to kill me.
When he aimed, he destroyed.
When he obsessed, he consumed.
Our love burned hot, an insatiable fire that threatened to ruin us both in a world of reckless outlaws and high-stakes games. Declan was my forbidden flame, a man with a dark past and a possessive streak that threatened to devour me whole. Still, I ached for him, even if it meant facing the deadly consequences of his criminal ties in the gritty and unpredictable wild of the West.
When we fell, we crashed.
When he claimed, he ruined.
I knew that I was destined to ride the thrilling waves of passion and adventure, even if it meant risking it all on a journey where love, danger, and villains collided.
Learn More
I love angst. I love to crack open a book and borrow the character's emotions for a bit. It's how I approach writing, too.
I've always been passionate about storytelling and impressed by the influence it has on people. I love engaging with the projects I work on, diving headfirst into developing real, raw, and relatable characters.

I like flawed and beautiful things.

I'm a Texas State University English Major, and my wild affair with literature began at a young age. I've always stayed up past my bedtime to read the stories your mother wouldn't approve of.

I live in Dallas, Tx with my husband and two beautiful, headstrong daughters. I enjoy long walks through the ice cream aisle at my local grocery store and listening to gangster rap in my minivan.